REVIEW: Young Justice Season 4: Phantoms – Episodes 8 and 9, "I Know Why the Caged Cat Sings" and "Odnu!"
Young Justice season 4 is back with a new episode that has the team finally tackling one of their biggest challenges yet, in "I Know Why The Caged Cat Sings." Elsewhere, Batman and Superman join forces to stop H.I.V.E.'s latest threat in "Odnu!"
The "young justice phantoms" is a superhero team that was introduced in the TV show "Young Justice". The team is composed of young heroes and villains. In these two episodes, we get to see the return of one of the members from Season 1, who has been away for many years, and also get to see how they deal with their new member.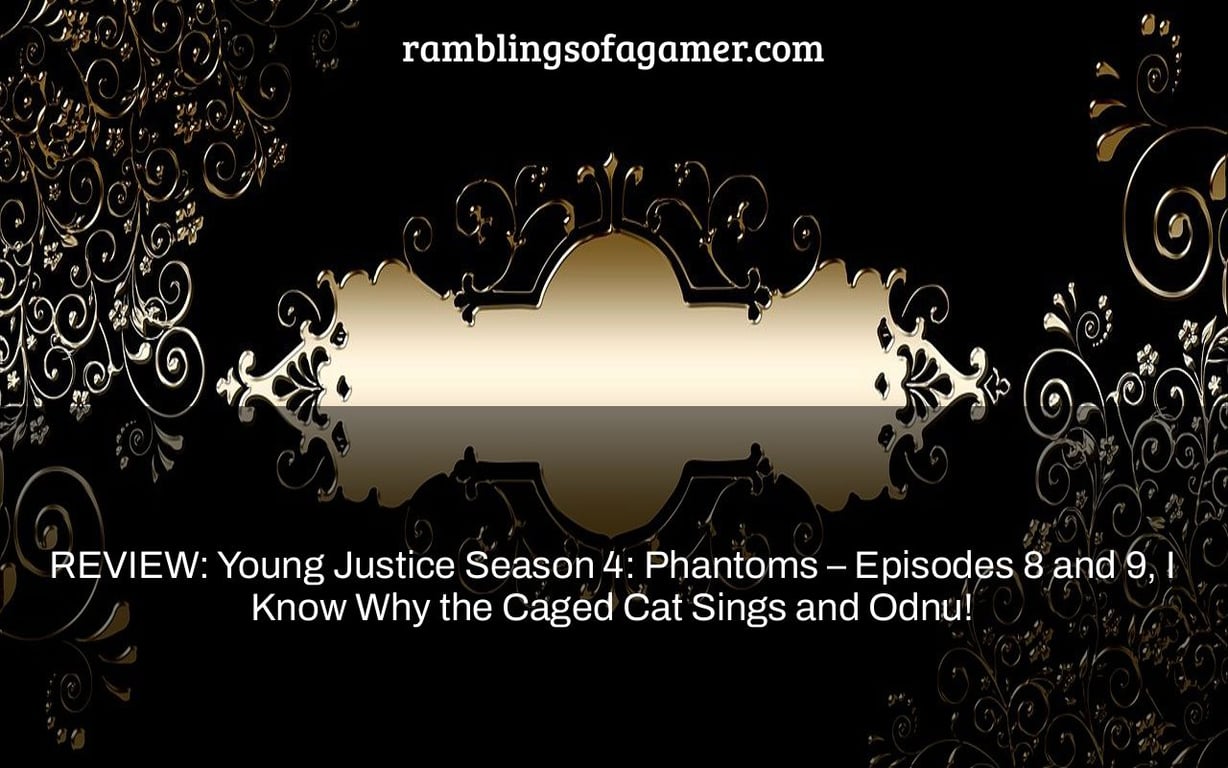 Young Justice Season 4: Phantoms – Episodes 8 and 9, "I Know Why the Caged Cat Sings" and "Odnu!" REVIEW: Young Justice Season 4: Phantoms – Episodes 8 and 9, "I Know Why the Caged Cat Sings" and "Odnu!"
"You took advantage of me!" "Please; you're fortunate that anybody could utilize you."
Reviews of television shows
*SPOILERS*
"I Know Why the Caged Cat Sings" picks off where "The Lady, or The Tigress?" left off, with Artemis and her companions being swamped by Lady Shiva's troops. Cassandra/Orphan ultimately manages to free herself by turning off the lights, resulting in a massive brawl. Lady Shiva demands that Tigress leave her Orphan, Jade, and Onyx as the lights come back up, but Shade whisks them away. Lady Shiva pursues and accidentally cuts her sole backup, leaving her to wonder why The Shade would betray her. He proclaims his due to Jade fulfilled in full and vanishes before Shiva can exact her wrath. She and Orphan get into an altercation, and the latter stabs her mother in the stomach, but Barbara persuades her to stop and go home with Artemis through communications. Jade agrees to a phone chat with Will and Lian, as well as traveling home to visit them, thanks to Artemis. When Lian takes out a handmade Cheshire mask and darts away, Jade is terrified. Artemis, Orphan, and Onyx track her down to Infinity Island, where she meets Sensei once again. He and Ra's al Ghul provide a safe haven for the former Shadows. The ladies agree with Tigress' grudging approval. "Odnu!" begins with a powerful monologue about the Lords of Chaos and Order's origin. The scene then shifts to Zatanna instructing her students on how to utilize magic. When a Lord of Chaos falls to Earth, Zatanna, Klarion, and others throughout the world are alerted to her presence. Flashbacks of Vandal Savage's history and his confrontation with Klarion are interwoven throughout the action. Klarion encounters the second Lord of Chaos, now known as "Child," after defeating Zatanna.
Before I go any further, I'd want to discuss an early action moment in "I Know Why the Caged Cat Sings." When Orphan takes out the electricity at the Santa Prisca complex, it's very magnificent. This combat scene's aesthetics leap off the screen, combining light and color in a totally unique manner. It somewhat reminds me of the fight after the moon has been destroyed in Avatar: The Last Airbender's Book 1 climax, "The Siege of The North Part 2." In that scenario, the backdrop was also rendered in greyscale, with color used sparingly and deliberately for emphasis. This sequence's combat choreography is great, but it's the way the animators play with the palette that truly sets it apart from the rest of the series.
In fact, just about everything on Santa Prisca is fantastic. Artemis used Cassandra Savage and Lady Shiva's raucous personalities against them, which was apparent yet successful. I was taken aback by the Shade's assistance to Artemis and her people, and I'm curious as to why he owed Cheshire a favor. In terms of both visuals and Lady Shiva's words, the fight(s) between Orphan and Lady Shiva are absolutely outstanding. My only criticism is that I believe Orphan should have murdered her mother. That would have been incredible, wouldn't it? That would have been a more thrilling route for the plot to go in, and Lady Shiva has no right to feel sorry for herself. I understand that practically every program is opposed to retribution, but Orphan is one of the few that deserves it.
I don't believe that taking retribution and ridding the world of a monster like Shiva will make Orphan as horrible as she is, contrary to what Barbara and Artemis teach. It's not like Orphan relishes murdering random people. I've never understood this way of thinking, and I'm not sure I'll ever understand it. It'd be one thing if Orphan didn't want to commit the act due of her own values, but guilt-tripping her isn't the same thing. When Onyx speaks of her grandfather's pacifist character towards the conclusion of "I Know Why the Caged Cat Sings," Orphan's reaction is revealing. Orphan seems to share Onyx's "misguided" conviction that words alone are insufficient to effect change.
I especially appreciate the moments with the Kents, particularly how Clark explains what happened to Conner to his small kid. I still don't believe he's dead, and I won't until there's no proof to the contrary by the conclusion of the season. I was startled by Jade and Onyx's decision to enlist the aid of Ra's al Ghul and Sensei, particularly given how the episode portrays this as a wise move. Even Artemis agrees with them. Are Ra's and Sensei finally forgiven? Were they never really villains, but rather neutral parties serving whichever cause fits their interests at the time? I'm not complaining, but I must admit that I'm fascinated. I never realized that Oded Fehr, who portrayed Ardeth Bay in 1999's The Mummy, is the voice of Ra. He's excellent in this part, and it was a nice surprise to see him in it. Keone Young, whose voice you may remember from Star Wars: Rebels, Star Wars: Visions, Samurai Jack, Avatar: The Last Airbender, Legend of Korra, the DuckTales! revival, and more, provides the voice of Sensei. He's also been in a number of video games and live-action films and shows, but none that I'm aware of.
Even great is "Odnu!" The Lords' pre-credits monologue is disturbing, and the graphics are fantastic as always. I've always appreciated Young Justice's study of its magical characters, but the return of The Light, particularly Vandal Savage, is even more intriguing. In "I Know Why the Caged Cat Sings," he was shown in a still speaking with Cassandra, but "Odnu!" is his triumphal return to the forefront. Although I miss Miguel Ferrer as his voice actor, David Kaye is a decent stand-in. In the current chronology of "Odnu!" till the very end, Savage has no conversation. He solely delivers the narrative of the flashbacks except for this last phrase. Allowing his facial expressions and body language to speak for him is incredibly effective. When Klarion hurries out of the Light meeting, he has a puzzled expression on his face.
The flashback sequences are fantastic. I've noted before how much Phantoms depends on flashbacks, but I don't mind when they're contributing to the plot rather than rehashing past information. Vandal Savage is one of my favorite characters in Young Justice, despite the fact that he hasn't gotten a lot of screen time. These memories go into some of the aspects of his personality that make him so fascinating. He's ruthless and self-centered, but he recognizes a good chance when he sees one. Instead of pursuing retribution, he forms a deal with Klarion after he knows who he is and what he could be worth. Klarion has just assassinated Vandal's crew, and despite his wrath, he sees profit in the scenario. I'm not claiming it's accurate or relevant, but it's intriguing. I really enjoy how, after they reach an agreement, he urges Klarion to give him a thousand years. He already understands what he's capable of and how to go about accomplishing his goals.
I appreciate the cruelty of "Odnu!" and how it demonstrates the villains' willingness to go to extremes. Klarion, bored, wipes out a whole town. To see what a human body looks like from the inside, a child (who I hope is given a new name) massacres a security guard. And we have no idea what Vandal has in mind for Klarion's part of the bargain. There's also a scene where Klarion kills Vandal in a variety of ways every day until he grows interested in his regeneration skills. Scenes like this would never have made it past the editing room if Young Justice was still on Cartoon Network.
I think it's ridiculous that they both ask, "What did you do?" afterward. Zatanna and Klarion are still at odds. This should have alerted them to the fact that none of them was to blame for the change in magical energy. Isn't identifying and confronting the source of the beacon more essential than their petty quarrels, even though they're enemies? Even the infantile Klarion, I believe, would be able to deduce this. I'm interested to see how Klarion's meeting with Child turns out. Despite being the main characters of "Odnu!" Zatanna and her pupils are by far the least interesting. Since she doesn't have much to do here and we're seeing the kids for the first time, I anticipate this to improve with time. This episode further advances Garfield's plot by demonstrating how his trauma and sadness have caused him to need sleep medication.
Young Justice's "I Know Why the Caged Cat Sings" is a fantastic episode, and "Odnu!" is even better. The former has amazing animation and fantastic battle sequences with great dialogue. If Zatanna and her pupils seemed more important to the tale, "Odnu!" would be ideal. I anticipate that the pupils, in particular, will improve during the season.
Plot – 9
Acting (10 points)
9 – Progression
9 – Production Design
Taking Action – 10
9.4
Great
Young Justice's "I Know Why the Caged Cat Sings" is a fantastic episode, and "Odnu!" is even better. The former has amazing animation and fantastic battle sequences with great dialogue. If Zatanna and her pupils seemed more important to the tale, "Odnu!" would be ideal.
Watch This Video-
Related Tags
young justice season 3
young justice season 2
young justice season 1